Amid the COVID-19 lockdowns that separated friends and families, people turned to social media to stay connected. And when it comes to social media channels, Facebook is still the market leader worldwide. The platform's growth is the most notable of all Facebook trends. But the company's constant improvement of the system through updates, new tools, and tweaks is also worth noting as it makes Facebook an attractive marketing tool for any organization.
Taking advantage of social media management software benefits will increase the likelihood of your Facebook marketing efforts becoming successful. Facebook has proved useful in certain business areas, among them marketing, customer service, and even collaboration. Hence, it makes sense that using Facebook in conjunction with top social media management tools would ensure optimal outcomes. To give you a better idea of what's in store for the platform, we have looked at the latest Facebook trends.
As of January 2021, Facebook has become the first social network to register more than one billion accounts with over 2.74 billion monthly active users. Its revenue for 2020 was $85.965 billion, a 21.6% increase from 2019.
Facebook remains the most effective social media advertising platform that can be used for free or at a minimal cost. However, the platform continues to evolve as a business tool, which is evidenced by the increase in the number of companies seeking to leverage the platform to reach more audiences. Simply checking out the latest Facebook statistics would confirm these benefits.
The social media platform continuously receives new features that can prove useful to organizations. Check out the following trends that are expected to impact Facebook users and businesses alike in the coming years.
STORIES
Although originally invented by rival Snapchat, stories publication is now dominated by Facebook, which now boasts of over 1 billion stories shared via the platform daily. So what makes stories a noteworthy Facebook trend? Facebook founder Mark Zuckerberg thinks stories will play a key role in the future of social media for a variety of reasons.
Zuckerberg pointed out three reasons why stories will be relevant in the years to come. First, many consider Stories as the new newsfeed. It has changed the way Facebook users share everyday events. And as stories happen in real-time, sharing comes almost instantaneously, keeping friends constantly in the know.
Stories also work well with smartphones, making them highly suited to today's users, most of whom use mobile devices. Lastly, stories support user privacy, a feature that most people find useful nowadays.
Key takeaways
 1 billion Facebook stories are shared daily.

 Mark Zuckerberg, the founder of Facebook, says Facebook stories will play a key role in social media.

 Facebook stories are seen as the new newsfeed.
FACEBOOK LIVE
Facebook Live can now be used by anyone who uses the platform, unlike before when only verified brands can take advantage of the feature. For companies that have limited marketing budgets, this can prove to be an excellent marketing channel as Facebook users are known to watch videos daily—100 million videos to be exact. It is also a fact that live videos are ranked higher in news feeds, giving them optimal exposure.
Facebook Live engagement is also going through the roof at 178% higher than average post engagement. It's also worth noting that the time people spend watching Facebook Live has quadrupled and live videos perform better with Facebook's algorithm compared to pre-recorded videos (SproutSocial, 2020).
Facebook Live's ability to reach many audiences makes it an ideal marketing tool.
Key takeaways
Many professionals see Facebook Live as a promising marketing channel.

Facebook users watch videos daily.

Live videos rank higher in newsfeeds.

The engagement for Facebook Live is 178% higher than the average post engagement.
VIDEO IS STILL KING
It's projected that by 2022, the video will account for 82% of internet traffic. That's 15 times higher than it was in 2017 (WNIP, 2021). Video was also used by 33% of businesses to develop content specifically addressing COVID-19, while 66% used video to engage and communicate with key stakeholders. These included investors, partners, customers, and employees (Cielo24, 2020). Hence, pundits see videos to continue to dominate Facebook marketing. The fact that different types of videos continue to emerge in recent years allows companies to cater to different types of audiences.
The popularity of videos as a marketing tool can also be traced to the fact that Facebook videos get 135% more organic reach than images. The popularity of Facebook videos shows no sign of waning, which is why 46% of marketers are mulling the addition of these videos to their digital marketing efforts in the immediate future. Check out the latest digital marketing statistics and find out for yourself how videos have been performing for companies' marketing programs.
Key takeaways
Video will account for 82% of internet traffic by 2022.

Video was also used by 33% of businesses to develop content specifically addressing COVID-19.

The emergence of different video types allows companies to cater to different consumers.

Facebook videos get 135% more organic reach than images.
CHATBOTS
The use of chatbots in social media platforms has become fairly commonplace, and Facebook is no exception. There are already 100,000 active bots monthly on Facebook Messenger. Businesses use them in different ways but customer service remains as the chief chatbot application. Users may program them to answer simple issues and queries, allowing you to drive your sales by automating customer interactions.
To successfully use chatbots, there are several things you should remember. First, you have to make your customer's chatbot experience feel personal. Coming up with a persona should take care of this. You might also want to make the chat process simple. Doing so would make your customers feel at home with the tech. And finally, accept the fact that chatbots are no magic pill: expect to hit snags along the way and prepare for such situations.
Automation and personas make FB Messenger bots a hit with businesses and customers.
Key takeaways
Facebook Messenger has 100,000 active chatbots.

Chatbots' automation of customer interactions drives sales.

Giving chatbots personas can improve customer experience.
MORE PAID AD SPENDING
Content marketers have been boosting investments in paid social advertising, with 93% of social media advertisers investing in Facebook ads. The social media platform has been raking in the top dollar from advertisers, with ad revenue reaching $27.19 billion during the fourth quarter of 2020 (Statista, 2021). The increase in the popularity of Facebook ads continues because social ads are 74% effective.
However, investing in Facebook ads also entails some thinking. The social media platform has retargeting features that you can use to zero in on customers who are already interested in your offerings. You can improve this process further by promoting ads that feature reviews of a particular product or service. Safe to say, this is one of the most prominent Facebook advertising trends.
Key takeaways
93% of social media advertisers invest in Facebook ads.

Facebook's ad revenues reached $27.19 billion during the fourth quarter of 2020.

Social ads are 74% more effective than those of other advertising channels.
CUSTOMER JOURNEY TRACKING
Journey mapping is a critical process that done right would help you understand your customers more. However, marketers do not exactly love its quite cumbersome processes. If you are a marketer, you know that knowing the ad that a customer last clicked before purchase gives you a representative snapshot of the customer journey.
Facebook's launch of a new attribution tool has made it possible for companies to tracking customer's online journey. Unlike current methods, the tool allows you to view touchpoints such as landing pages, posts, reviews, and ads that lead to a specific purchase. It basically, provides you with a clearer picture of the whole customer journey, allowing you to measure the value of individual sales channels.
Key takeaways
Facebook's attribution tool allows companies to track the customer journey.

Journey mapping allows companies to get a better understanding of customers.

Customer journey tracking enables businesses to measure the value of a sales channel.
BRAND VOICE
Companies showcase their brand voice every time they update their websites, launch an ad or publish a post on social media platforms. Brand voice has become a key marketing ingredient as it helps organizations easily recognized in the heap. And social media is a great avenue for building your brand voice.
Facebook can contribute to your brand voice strategy by allowing you to post engaging content that will appear in your customers' feeds. However, making this work will be entirely up to how you create and manage your content. You can succeed with your content strategies by improving corporate values and being consistent across sales channels, among others.
Key takeaways
Brand voice helps in brand recognition.

Posting engaging content can help brand voice strategies.

Brand voice is showcased in social media posts.
PAGE CUSTOMIZATION
Facebook has been allowing users to customize their pages for some time now. The feature is nothing new but it continues to be a valuable tool to maximize your social media reach. You can customize different page components while allowing you to integrate third-party applications to your page. Marketers find this feature very useful as it effectively allows them to sell directly through Facebook.
You can customize Facebook pages in a variety of ways. Changing templates depends on the business category, allowing you to choose the best design for your business. You can likewise manipulate tabs, which you can add, rearrange, customize or remove as you see fit. This customization option allows you to stand out from the crowd.
Key takeaways
Customization allows businesses to maximize their social media reach.

Posting engaging content can help brand voice strategies.

Businesses can directly sell through Facebook using customized pages.
FACEBOOK SPACES WILL BE A THING
Social media users have always wanted to meet in virtual settings. Facebook Spaces is an app that can do just that, allowing geographically challenged users to gather in a virtual place. This virtual setting allows for the sharing of different media types–all in real time. Again, this is a great opportunity to market your brand. But you may also want to use the best social media monitoring solutions to ensure that your Facebook marketing campaigns are on the right track.
This new platform is going to benefit marketing professionals as it offers endless branding options. You can easily share product descriptions and information. Users can likewise have the ability to point to different product types, including cars, apparel, shoes, and even food. So how do we know that Facebook Spaces will work for businesses? It's because leading organizations have started tinkering with the technology.
Key takeaways
Facebook Spaces provides users with a virtual place to meet.

Virtual spaces make real-time media sharing possible.

Facebook Spaces offers marketers unlimited branding options.
WHAT DO THESE TRENDS MEAN FOR YOUR BUSINESS?
The Facebook business trends presented here tell us that the social media platform has yet to outgrow its usefulness to organizations. In fact, it was an important channel for businesses to interact with stakeholders when the COVID-19 outbreak happened. The company's continued search for more powerful and useful features is also a testament to this. Most of these upgrades make the most of new technologies like chatbots and AI, which bring companies and customers closer together.
Facebook videos published and shared through the platform still outperform traditional media in terms of reaching audiences. To get a general overview of how social marketing has been faring, all you need to do is check out the most current social media statistics.
Meanwhile, tools like Facebook Live and Stories would likely emerge as popular and effective marketing tools as they are free to use and can exploit the fact that users spend more time watching videos than they do with other media. Given all these Facebook marketing trends, the prospect of your business benefiting from Facebook is quite high. But as they say, the truth of the pudding is in the eating. You will need to give the social platform a try to see if it works for your business.
Reference:
Source: Finance Online.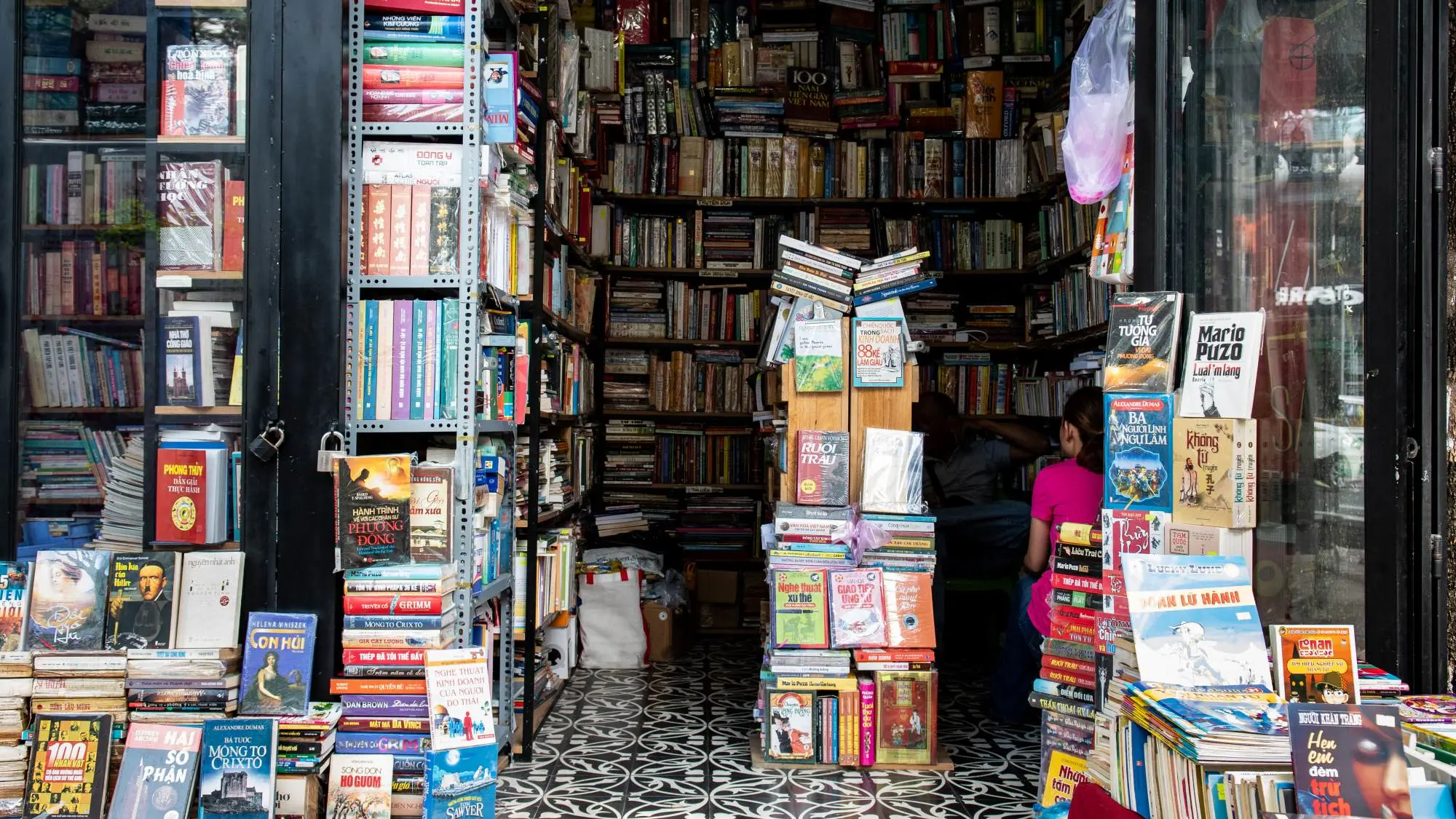 Publishers worldwide are going the extra mile to achieve their yearly goals during the second half of the year when many prestigious book awards are given to the worthiest titles and authors. Vietnam's publishing industry is no exception. In particular, Vietnam National Book Award has recently announced its winners and introduced many original and outstanding books to a large audience.